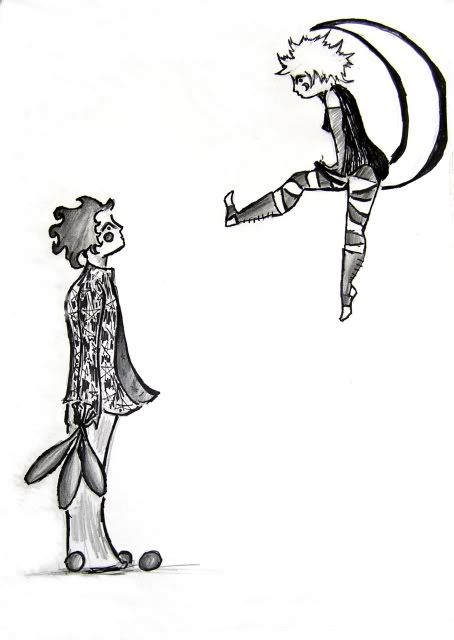 OH MY GOD IT'S HUGE.
(I finally figured out how to make images larger in blogger.)
Now that I'm home from Brasil, work is going full speed ahead on the Next Big Thing- the Wandering Dream Circus, a project that my performance bestie Nathen and I are putting together for a tour in June. This is some of the concept art I knocked out between flights yesterday, and it's one of three pieces that I'll put up here as I scrub the extraneous pencil marks off them in Gimp.
That would be me with the hedgehog hair sitting on the moon, by the way.
The website and facebook page for us Wandering Dreamers should be up by next week, but here's a taste of who we are and what we do:
"The Wandering Dream Circus is a fantastical exploration of a world beyond our own, steeped in darkness and whimsy, brought to a boil under a bruised and roiling sky, and served hot with a sliver of moon and a wink. Using acrobatics, juggling, fire and aerial arts to tell the story of two night travelers who find themselves lost in a strange world of darkness and dreams, the Wandering Dream Circus will conjure up stars in your eyes, spark wonder in your hearts, and plant deceptively simple questions to blossom in your mind."
The current tour, which is subject to change, takes us through Phillidelphia PA, Baltimore MD, DC, Carrboro NC, Chattanooga, TN, Tucson AZ, Monteray CA, San Francisco CA, Ashland OR and Portland OR.
What's that you say? You want fantastical circus artists to come to your town, conveniently located roughly along our current route? CONTACT US. My email is hungrily awaiting more Southern venues that we can cast out spell of childlike wonderment over. Feed it with ideas here: mishkotek@gmail.com.