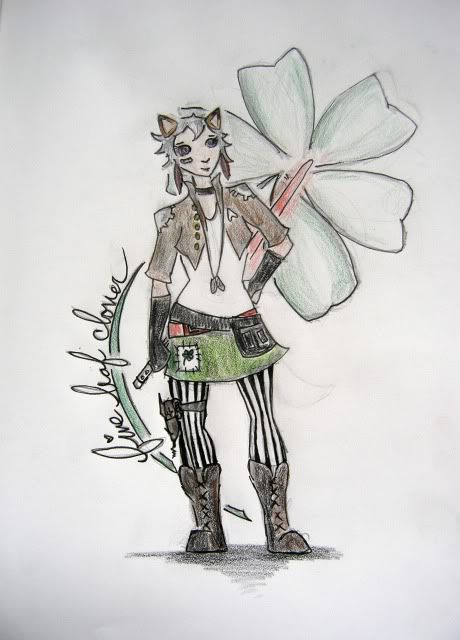 Hey, world! It's been awhile. I've been remarkably happy and well adjusted and BUSY living here in Portland, which means I haven't been putting time and energy into making art. But don't worry, the crushing depression of winter in the Pacific Northwest is on the verge of hitting, so I'll no doubt be productive for the coming months of emotional hell.
Last night, my dear friend Claire rolled into town to vend at
Orycon
. She sells ridiculously adorable geeky accessories and runs an etsy shop as
Five Leaf Clover
. She's been looking for a logo/character to represent all the badass things she sells, and asked me to come up with something that encompasses steampunk, Star Trek, Star Wars, circus, video games, furries, and general geekitude, plus a five leaf clover. While she was doing some last minute jewelry assembly for the con, I drew up, inked and colored the above. I think it looks pretty damn fitting, if I do say so myself.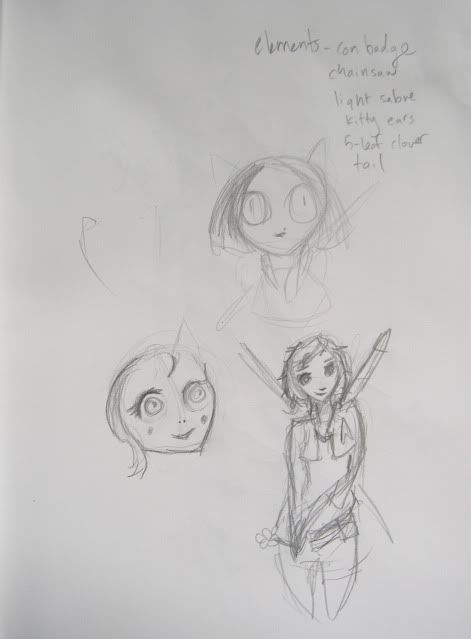 These were my original sketches. The initial concept she gave me was "chibi", which is a little far out of my normal drawing style, as the creepy big-eyes creatures above can attest. Fortunately, she then gave me
Chainsaw Girl
as a style reference, which was MUCH easier for me to replicate.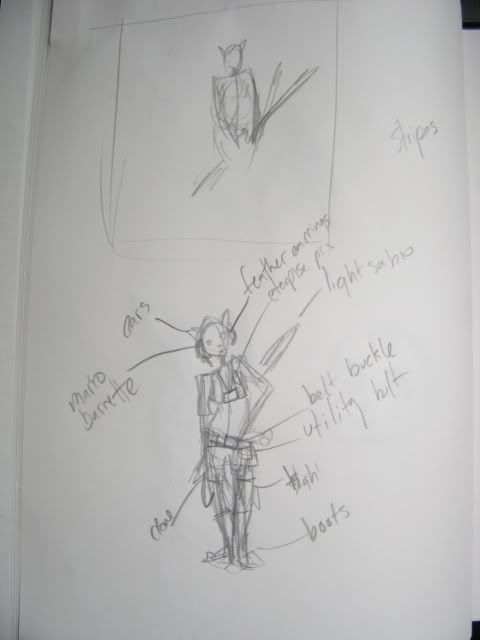 Mapping out a pose for the figure and labeling all the elements we wanted to include. (I made a few lists to make sure we got them all!)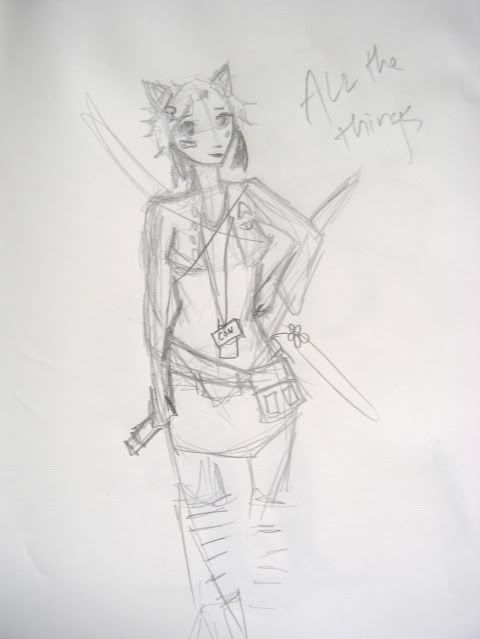 First rough of the figure- too big, and too sweet for the look I wanted. As you can see, I replaced the lists of elements with "ALL THE THINGS."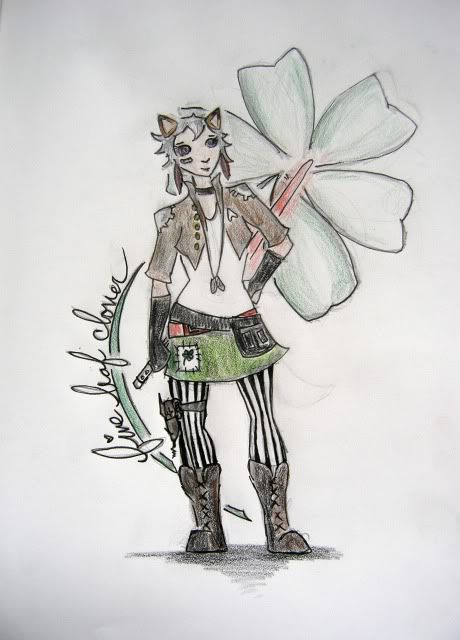 And the final piece! From the top down, we have fox style kitty ears, feather earrings, a black choker, steampunk jacket, a Starship Enterprise pin, dog tags, arm warmers, a pocket belt, a Nintendo game belt buckle, a five leaf clover patch, vertical striped tights, a steampunk blaster in a thigh holster and furry boots. And a light sabre. All of which Claire can be seen wearing or selling at any given moment.
I'm going to do a lot of clean up in Gimp to get rid of the extraneous pencil lines and hopefully punch up the color. I wanted the image to be detailed enough that it could be blown up and have interesting complexity or shrunk and still be readable.
If you haven't already, go check out Claire's etsy shop
Five Leaf Clover
and go buy things!