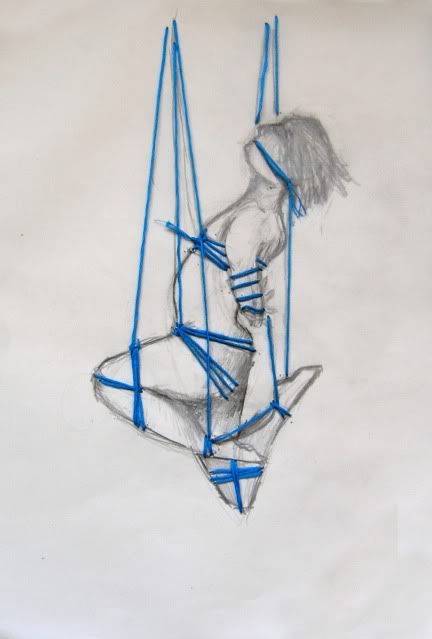 Well, I think this is the first time I've broken out the NSFW tag for something explicitly sexual. Hi, family members I regularly direct here!
This piece started out as a simple figure study, that wound up taking a pose that couldn't really be achieved without a full suspension. So I grabbed some embroidery thread and a needle and did just that.
The concept of combining drawings with thread is far from original- I'm pretty sure I've even seen
shibari
themed pencil and thread art before. There are some beautiful ink and ribbon mixed media pieces up in the aerial studio I train at that have probably been subconsciously pushing my art brain in this direction. I'd like to imagine there's a "connect-the-ropes" cardboard shibari book out there that comes with a few lengths of shoelace and reinforced holes around naked figures. (If not, why the hell hasn't someone made it yet?)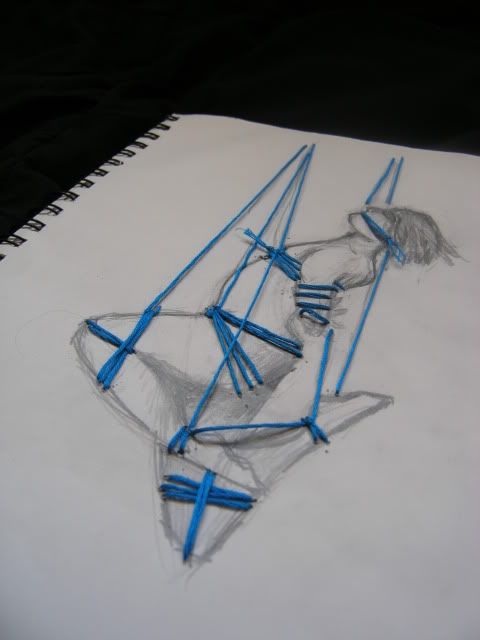 A shot from another angle to give some idea of how the embroidery thread looks on flat paper. I deliberately left the tie between the ankles loose, in an attempt to make it look as if it were hanging loosely.
It should be clear from this attempt that I am painfully inexperienced in shibari. I didn't even break out a reference book for this, even though I know there's one less than 20 feet away on our bookshelf in the living room. I'm a lazy artist like that, particularly when I'm scribbling in my sketchbook at midnight in front of an episode of
Misfits
. I've been tying people up in my art since middle school, to varying degrees of divorced from reality, but even I know you can't suspend someone from ankles, crotch and knee points. That's what drawings are for.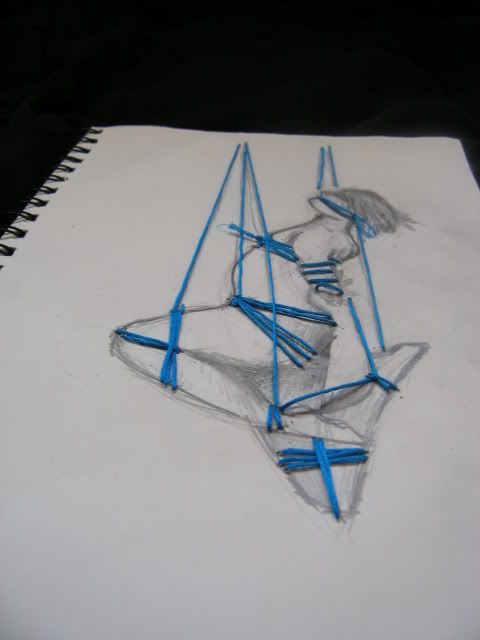 I'd like to do a few more pieces in this theme using watercolors, heavy-weight paper, and thin hemp rope. If you look for it, you can see where I mistakenly broke through the paper trying to feed the needle in blind. My subject was very patient with me, despite all the unintentional piercing.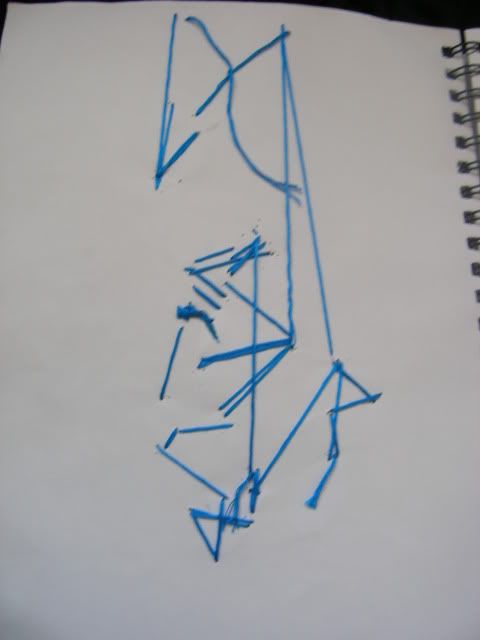 A shot of the back of the page. You can fill in the figure a bit if you know what to look for, but otherwise, I find it to be a really interesting negative of the image.